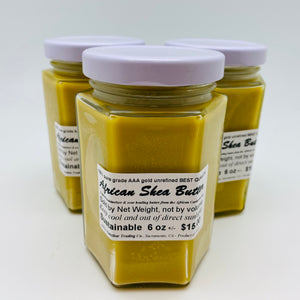 Zanzibar's AAA quality gold Shea Butter.
100% pure AAA gold unrefined Shea butter. No hexane - sustainably produced in Ghana. Triple filtered.
Shea Butter is derived from the Carite tree In West Africa and is a natural skin moisturizer, scar and wrinkle reducer and muscle relaxer.
In its native Ghana it is used to treat dry hair, as a natural skin moisturizer and sunblock (has not been tested for its SPF abilities in the USA) and is even used in soups!
It is great for dry scalps, cracked lips and dry feet (just lather it on at bed time and put on socks!) it's great on large scars and keloids and if rubbed in twice daily will often reduce them!
If you'd prefer or have a fragranced version, melt in microwave for 1-3 minutes until liquid. Let cool to room temperature and add essential oils then place in freezer until solid.